Description
Habitat: Desert environment; gravelly or sandy soils, in flat areas, limestone, sandstone and igneous slopes and outcrops; 2300 to 4000 ft. Found in South Texas and Big Bend region, and adjacent areas of Mexico.
Plant: Solitary cactus with stem up to 15 inches tall and 4 inches wide, ovoid or long ovoid shape with about 8 ribs covered with tightly-spaced tubercles protruding 1/2-inch or less.
Spines: Central spines (4) from 3/4-inch long to the longest being 2-3/8 inches long; radial spines (10 to 17 per areole) 3/8 to 1-1/8 inches long; younger spines are reddish and white (i.e. bicolored); older spines weather to ashy white.
Inflorescence: Very showy flowers 2 to 2-1/2 inches across at the top of the stems; inner tepals rose-pink to magenta with red bases; many yellow stamens surround red to red-orange or yellowish center pistil.
Bloom Period: March to September.
References: "Cacti of Texas" by Powell, Weedin and Powell, Flora of North America and "Manual of the Vascular Plants of Texas" by Correll and Johnston.
BONAP Distribution Map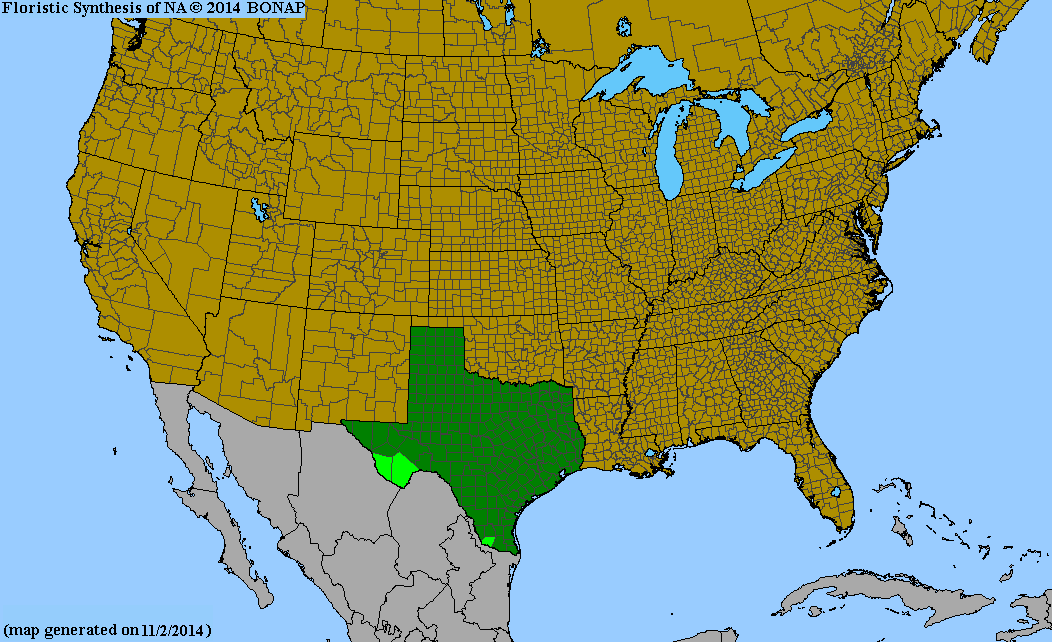 Map Color Key
Texas Status:
Native