Description
Habitat: Gravelly to rocky, often calcareous grasslands, desert scrub, mountain woodlands; 4000 to 6500 ft.
Plant: Basal rosette of leaves 20 to 32 inches across and 40 to 60 inches tall with flowering stalk 5 to 23 feet tall.
Leaves: Lanceolate to broadly lanceolate grayish-green,stout, fleshy, leaves up to 2 feet long with sharp teeth spaced out along margins and very sharp spine at tip; overall concave in cross-section.
Inflorescence: Scape (stalk) 5 to 23 feet tall with open panicle of 12 to 15 large umbels, each with several clusters of 21 to 48 erect, tubular, greenish-yellow flowers; tepals often red-tinged; lance-shaped bracts several inches long along scape.
Bloom Period: June to July. Plant blooms once when mature (20 to 40 years old) and then dies.
References: "Manual of the Vascular Plants of Texas" by Correll and Johnston and SEINet.
BONAP Distribution Map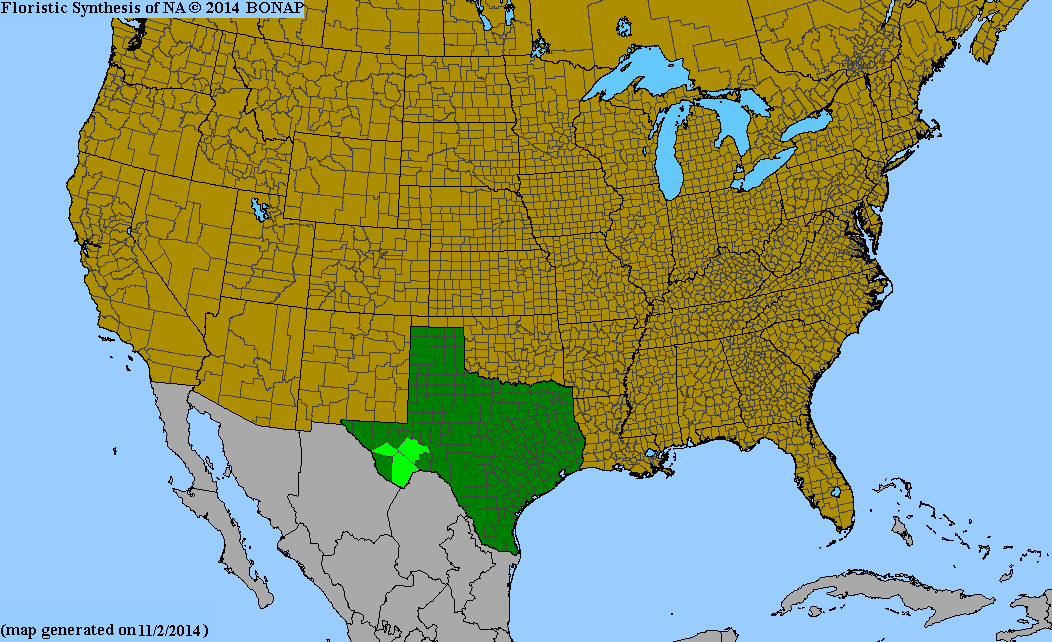 Map Color Key
Texas Status:
Native-
Endemic to Big Bend region