Description
Habitat: Limestone soils in pasturelands, woodland edges, roadsides; endemic to Central Texas.
Plant: Erect perennial with straight usually unbranched stems 8 inches to 3 feet tall with 3 to 5 nodes; lower stem mostly smooth, upper densely covered with short hairs.
Leaves: Narrow linear-lanceolate, pointed leaves 4 to 14 inches long; upper portions of leaves becoming densely covered with short hairs, lower portions mostly smooth.
Inflorescence: A few to many flowers in terminal cymes, blossoms about 1 inch across with three broad, rounded petals, usually lavender-blue to pink, rarely white (shown here); yellow anthers; blossoms subtended by leaf-like bracts up to 4 inches long with a sac-like shape at the base; bracts, sepals and pedicels covered in short, fine hairs.
Bloom Period: March to May.
References: "Wildflowers of the Texas Hill Country" by Marshall Enquist, "Manual of the Vascular Plants of Texas" by Correll and Johnston and Vascular Plants of Williamson County.

BONAP Distribution Map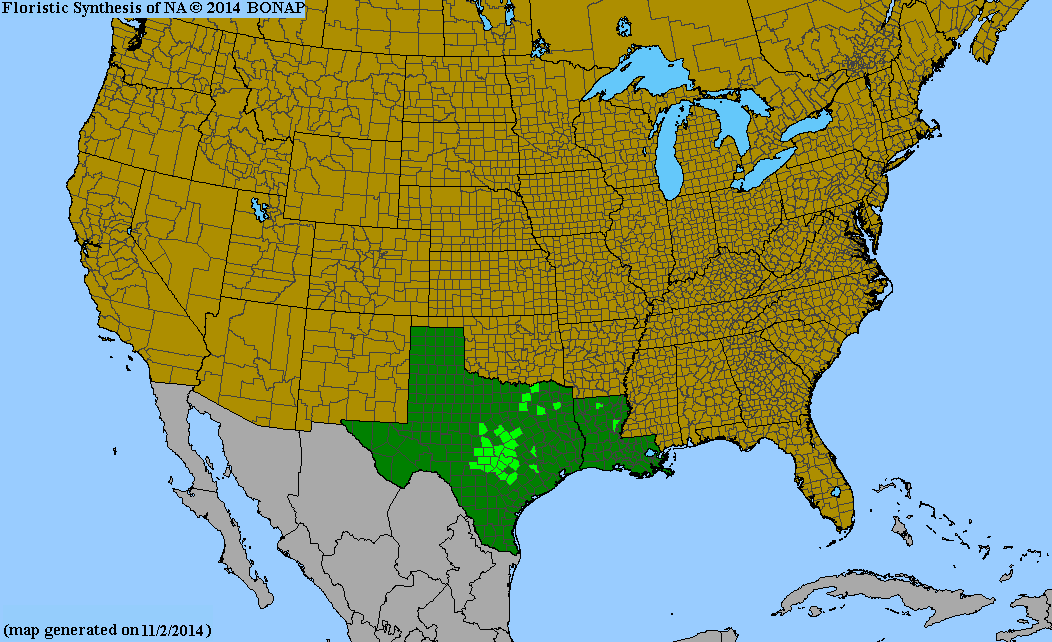 Map Color Key
Texas Status:
Native
Endemic to Central Texas