Description
Habitat: Gravelly, sandy, usually calcareous soils; hillsides, pastures, brush; common along roadsides.
Plant: Erect, hairy annual 6 to 16 inches tall, branched from base, branches more or less decumbent.
Leaves: Alternate mostly basal leaves divided into 5 (rarely 7) oblanceolate leaflets each up to 1-inch long with pointed tips.
Inflorescence: Numerous flowers in raceme with a silvery-white tip, 6 or more inches long; each blossom 5/8-inch long, 5 petals, blue to blue/purple (sometimes white) banner with white spot near base, becoming reddish after pollination.
Bloom Period: February to May.
References: "Manual of the Vascular Plants of Texas" by Correll and Johnston, "Wildflowers of Texas" by Geyata Ajilvsgi, and "Wildflowers of Texas" by Michael Eason, and "Wildflowers of the Texas Hill Country" by Marshall Enquist.
Note: This species looks very similar to another, L. carnosus, but this species' inflorescence is more conspicuous, longer, more congested with blossoms, and the tip more pointed; and the leaflets have more pointed tips. This species is more generally distributed in the southern 2/3 of the state. Both are designated as the Texas State Flower, along with the other Lupinus in the state.
BONAP Distribution Map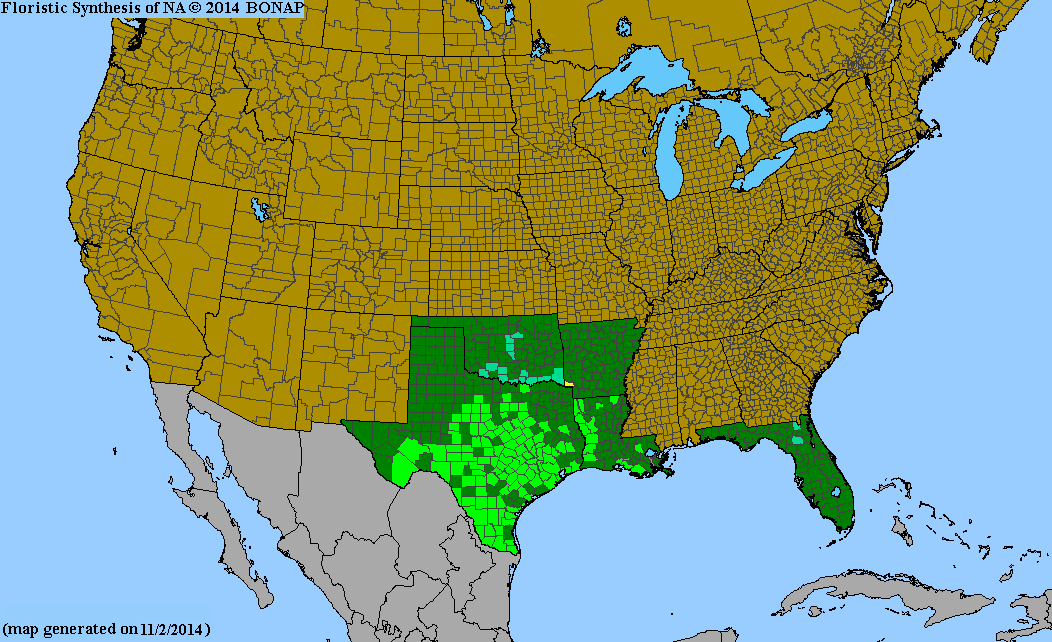 Map Color Key
Texas Status:
Native