Description
Habitat: Moist soils along streams, seeps, and springs, hillsides and mountain areas; 4,000 to 6,500 ft.
Plant: Erect annual 15 to 30 inches tall with smooth, usually branched, stems.
Leaves: Opposite on petioles 1/4 to 1 inch long; blades 3/4 to 3-1/2 inches long and 3/8 to 1-5/8 inches wide, rounded to deltate in outline, two or three times pinnately dissected, ultimate lobes with serrate or incised edges with tiny hairs (cilia); surfaces are smooth.
Inflorescence: Usually solitary, small, composite flower heads about 1/2-inch across or less, on peduncles up to 6 inches long; 3 to 5 (or none) white rays up to 1/4-inch long and 13 to 25 yellow disk florets in the center; 8 to 13 (or more) linear outer phyllaries.
Fruit: Red-brown, flattened outer (ray) achenes about 1/4-inch long; dark brown to black, inner (disk) achenes about 3/8 to 1/2-inch long; all achenes have a pappus of 2 short, erect awns attached to the top.
Bloom Period: July to October.
References: SEINet and "Manual of the Vascular Plants of Texas" by Correll and Johnston.
BONAP Distribution Map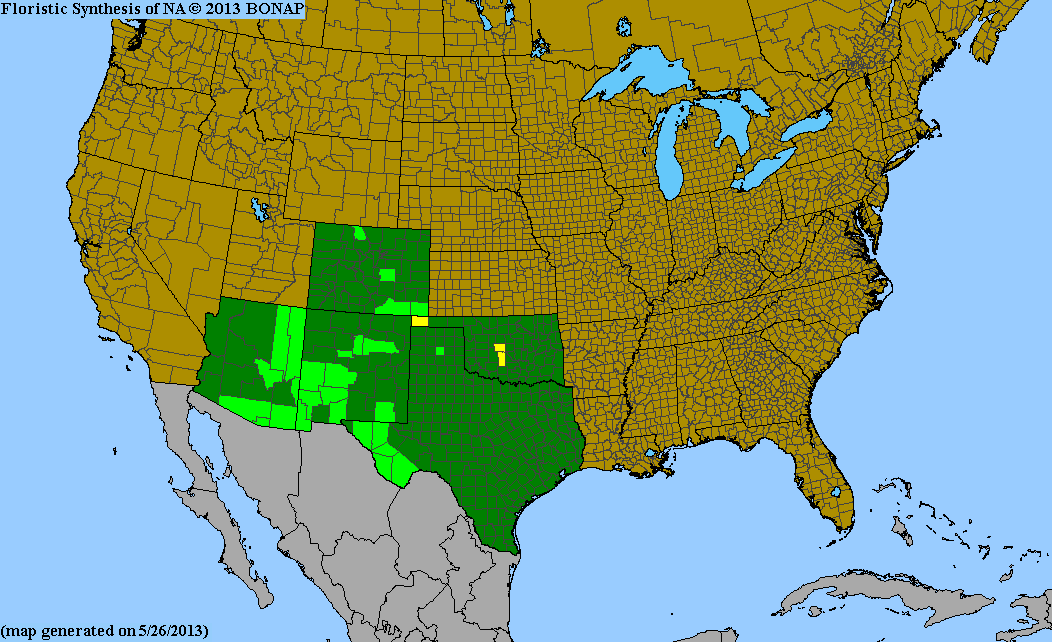 Map Color Key
Texas Status:
Native